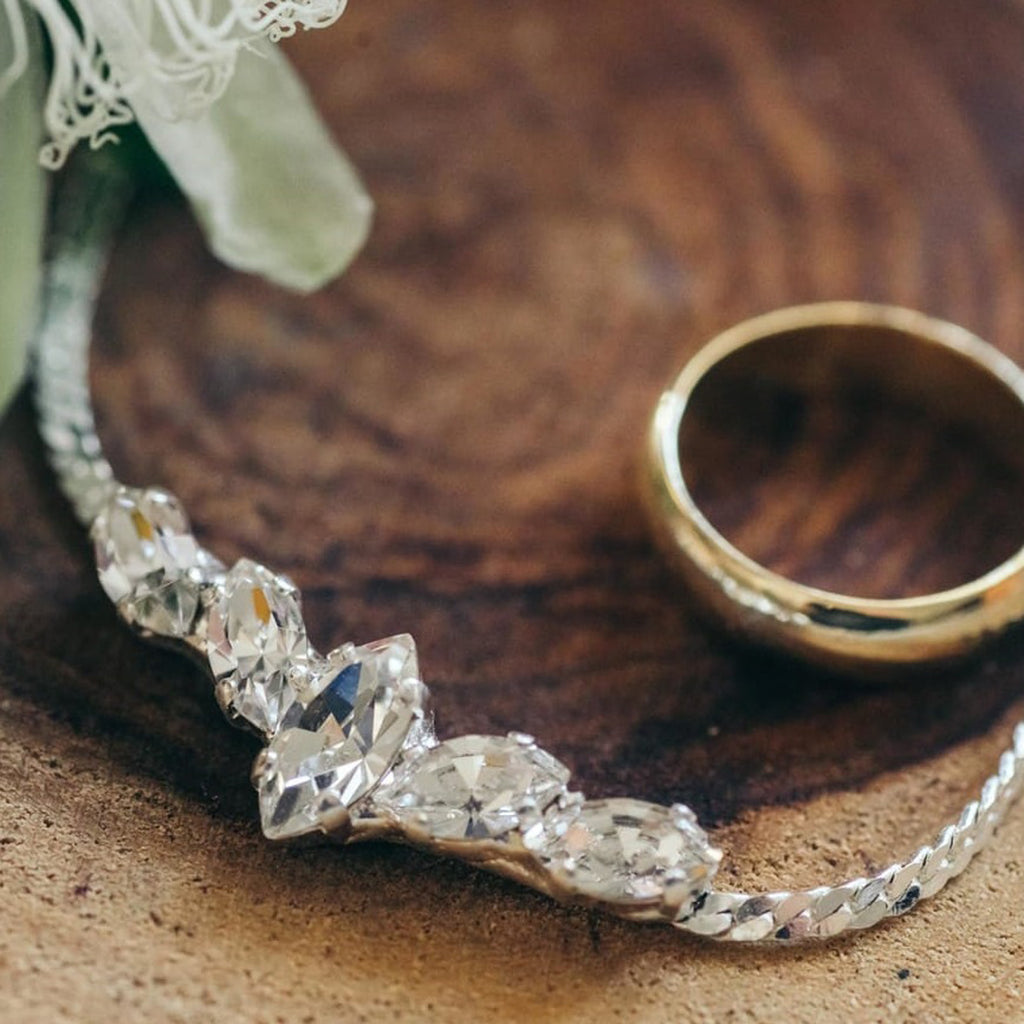 After choosing the earrings, which was the first step, I'd like to talk about
bracelets
:
With most of my brides I find this department slightly less taken into account
Most brides think it isn't something to think about or they'll use what they already have, But and this is a big but A bracelet is a
must
- unless the dress has long sleeves otherwise there is something missing to complete the look.
Just go over my brides wedding photos gallery on my
Facebook
or
Pinterest
, and see for yourself, You might find loads of wedding inspiration for all of your preparations.
In the wedding photos the photographers takes a lot of hands photos from the wedding ceremony or outdoor photo productions and this adds so much, even if it's just a little spark it just gives so much to the entire total look!
And sure we need to decide what is best suitable, to the dress and your style, If your dress is a like a fairy tail bride or a princess design you might consider going for a dainty wrist bracelet, like the
Trang braeclet
with Swarovski crystal element or even a Tennis bracelet - it adds a romantic more elegant look to your wrists and the entire silhouette.
If your dress is a bohemian dress with a boho look, Or it is kind of urban style you might go for cuffs, there are many options for that, there are designs with front opening or center piece from the front like the
Shira bracelet
 keeping it sparkles with Swarovski crystals and sometimes the combination of acrylic pearls, like in the Roni Bracelet those kind of bracelets has a lighter look, especially for the cool bride.
For the vintage style
Lucian bracelet
is exactly what you need, while fitting in style it adds just the shine needed, optional to create as a wrist bracelet as well as a cuff.
This isn't a black or white decision and a wrist bracelet can look perfect on a boho chic bridal dress but this is defiantly something to consider!
And as always you can dm for consultants, by sharing with the me the dress photo I can gladly suggest my opinion and work together with you 'till we will find the perfect match.
♥